« jest for pun (February'05) | Main | oh the pilots! »
March 01, 2005
The Orchid Show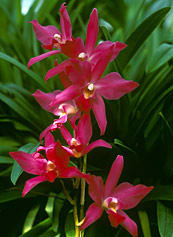 February 26 to March 27, 2005
Imagine this: You are a conservationist rushing down the Amazon River in a dugout canoe, surrounded by dense, almost impenetrable jungle. You paddle over to the muddy riverbank and begin making your way through the trees and vines. And suddenly you see it: the rare orchid you've been hunting for months, ready and waiting for you to uncover its secrets.

Want to continue the journey? Then visit The Orchid Show at The New York Botanical Garden. This year's show will transport you to exotic, orchid-packed places on two continents. You'll wander through the jungles and cloud forests of Asia and the Americas, where thousands of brilliant orchids—delicate, elegant, fascinating, bizarre—drip from the vines and nestle among the ferns. Visit the camp of a botanist who's tracing the orchid family tree, and learn how one particular variety ends up in your ice cream. You'll not only discover the sensual allure of orchids, you'll learn what's being done to protect these precious plants and their natural environments.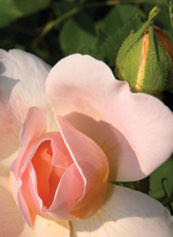 The Orchid Show experience includes tours, gardening demonstrations, lectures, family fun, and a vast array of orchids for sale at the Shop in the Garden.
Orchid Collection
Some are no bigger than your thumbnail, while others are the size of your hand. Some mimic bees and butterflies, while others resemble a lady's slipper. And some simply defy description. Throughout the year, you can see the seductive stars of the Garden's tropical plant collections—orchids from Africa, Asia, the Caribbean, and the Americas—in changing displays in the Conservatory and the Orchid Terrarium in the Library Building. Marvel at rare orchids growing as they would in nature in the Conservatory's rain forest galleries. In March, celebrate their spectacular beauty and diversity with the annual Orchid Show, where thousands of orchids, from miniatures named 'Pinhead' to giant violet vandas, fill a luxuriant tropical landscape.
March 1, 2005 in Art, Info, Photography | Permalink
TrackBack
TrackBack URL for this entry:
https://www.typepad.com/services/trackback/6a00d834220df153ef00d8346ba92569e2
Listed below are links to weblogs that reference The Orchid Show:
Comments
found you via the orchid connection as we have just seen the first lizard of spring...and then find you link to duane keiser. check out another paining a day at http://shiftinglight.com
Posted by: ruth phillips | Mar 22, 2005 2:02:35 PM
Beautiful images. Lovely flowers. A bright yellow, flowing purple, sweet violet, soothing white, collection of blues and reds; a kaleidoscope of lovely flowers. Thanks for posting.

Posted by: Chirayu | Mar 8, 2005 2:14:34 AM
Wonderful wonderful orchids. Thanks for sharing. Loved it!!
Posted by: Audrey | Mar 3, 2005 9:07:40 PM
Stunningly beautiful ... thats how I'd like to describe these Orchids. Lovely...
I really envy all those who saw it in person... sigh

Posted by: Bob | Mar 2, 2005 11:26:38 PM
Stunningly beautiful ... thats how I'd like to describe these Orchids. Lovely...
Posted by: Bob | Mar 2, 2005 11:05:31 PM
Just looking at these pictures makes me wish I could have attended the show..the orchids look truly exquisite.
Posted by: Arian | Mar 2, 2005 3:16:24 AM
S i g h! I absolutely envy NYers for having access to such a beautiful show for a whole month. Those who are in NYC and its vicinities, should not miss this show and the rest of us are left to thank SV for the blog entry and sigh deeply at every picture :-(
Posted by: Manish | Mar 1, 2005 4:08:59 PM
Saw this and recommend it to all who can get there. It looks gorgeous and smells wonderful and is altogether good for what ails you. Just stopping to contemplate how blind selection operated over the long millenia -- and deliberate (human) selection continued -- to shape these often bizarre flowers (some of them looking (at least to the males) like female insects of a particular species; others looking (to me) like butterflies, or a row of singing birds on a branch, or in shapes with no correlate, but undoubtedly of essential use to the orchid)is gratifying. So there you are: something for beauty, something for thought, and a very pleasant place for you to engage in these agreeable pursuits.
Posted by: judith | Mar 1, 2005 11:30:10 AM
wish there was a way you could post the smell of those flowers :-)
Posted by: lucidly awake | Mar 1, 2005 7:37:46 AM
The comments to this entry are closed.